​Who is responsible for work-life balance?
In July 2021, deverellsmith polled 200 property professionals to gain a deeper understanding of who they believe is responsible for work-life balance: the employee, employer or both? Drum roll please… and the results are in:
14% of participants said it's down to the employer

84% of participants think it's both the employer and employee

just 3% think it is solely down to the employee
To support employers create a work-life balance which is right for their staff and to aid employees create a work-life balance which doesn't lead to burn out, deverellsmith has created two help guides to ensure the equilibrium of professional and personal life is conquered.
In this guide Laura Croggon, Communications Manager at deverellsmith, reveals her 3 tips for employers, managers, and leaders of a business. Check out deverellsmith's employee guide here written by Comfort Adedayo, deverellsmith's brilliant Communications Assistant.
Flexible working
It might be obvious, but flexible working comes in a multitude of forms – it's not just working from home! Gov.org.uk defines the movement as 'a way of working that suits an employee's needs'. That could be having flexible start and finish times, staggered hours, a less structured working pattern, job sharing and a compressed work week.
An employee's working pattern no longer needs to be militantly structured, the 2020 global pandemic proved unconventional working models do work and enable staff to thrive. Instilling trust between the employer and employee not only increases retention but boosts output. A survey by Airtasker highlights employees that work flexibly on average work 1.4 more days every month than traditional office workers!
Allowing staff to work in a flexible way, empowers a work-life balance for both the employer and employee as staff are not restricted by regimented working hours or over-time in the office.
Invest in partnerships
One of the reasons that makes the property industry a brilliant sector to work in is the people that power it. The community has created a variety of sub-communities, networks and partnerships which support employee wellbeing. deverellsmith recently signed up to 'The Pledge' by Mental Health in recruitment, a commitment to driving change to how mental health is viewed and supported in the workplace. It gives recruitment businesses of any size a simple and achievable roadmap toward making change.
The right partnership for your company depends on your business specialism and the area of employee support you are looking to invest in. Below are two companies which support the Real Estate industry and play benefit to the people fuelling your company.
Agents Together (Healthy Business)
Through Healthy Business, Agents Together offers a range of programmes and tools to support the wellbeing of individual estate agents and their businesses. From video sessions to mentoring, they're encouraging collaboration and the sharing of expertise and knowledge to ensure a bright future for estate agency and its people.
The Hub is a one-stop-shop for your personal and professional wellbeing, The Hub is where you'll find all Agents Together resources, from contacts for support organisations to video tutorials by industry leaders. It's also home to The Forum—a discussion space where you can share your opinions on a different industry topic each week.
LionHeart is an independent charity run by RICS professionals, for RICS professionals. Through a volunteer network, this benevolent fund offers confidential advice, information and other support to past and present members of the organisation who, for whatever reason, find themselves in difficulty.
The aim of LionHeart is simple: to be there for RICS professionals whenever life throws them a curve ball, from APC candidates right through to retirement.
The services provided range from financial support, health and wellbeing packages, free professional counselling, work-related support and legal advice, and help if you or one of your loved ones become seriously ill.
The Conveyancing Foundation–Be Kind We Care
Be Kind We Care is working in partnership with charities LawCare, Agents Together and the Mindstep Foundation to provide businesses and individuals with the resources they need to promote good mental health and wellbeing in the workplace.
The Be Kind We Care Resource Hub offers access to a host of useful guides, top tips, podcasts, and webinars. There is also the opportunity to sign up to the Be Kind We Care Newsletter, which will provide subscribers with additional resources.
The Be Kind We Care initiative also be working closely with Today's Conveyancer and their Call for Kindness campaign to promote this agenda, and also aims to raise over £30,000 in 2021 in support of charities providing mental health and welfare initiatives.
Small investments in the right places
Technology – Investing in the right technology enables your employees to feel motivated, connected and trusted in their position. The right technology means your staff can focus on productivity rather than output. Tech stacks should include an easy messaging software (where notifications can be switched off) like Teams or Slack to casually converse without using personal apps, like Whatsapp.
Purpose driven – Making it clear from the get-go what your company's purpose is allows your employees to feel like they are part of a bigger picture, reaching further than their immediate responsibilities. You can align your values with charities and give your staff time to volunteer, emphasising the balance between work and personal life.
Workplace wellness – Create a work environment that promotes a healthy lifestyle and that doesn't encourage over-time or out of hours commitment. Providing fruit on-site, discounted gym membership, wellness classes or designated 'block-out' time where your entire business can't book meetings all positively reflect your business as an employer and demonstrate how you invest in your people. Your employer brand shouldn't just talk the talk but walk the walk.
Regularly review and maintain momentum – It's easy to launch initiatives, but it's another thing to maintain a workplace movement or shift in behaviour. It can be so easy to slip back into old habits. Lead by example and follow the steps above to make your staff feel confident and comfortable in valuing their work-life balance. Regularly review workloads and check-in – ask if the structure is working for them.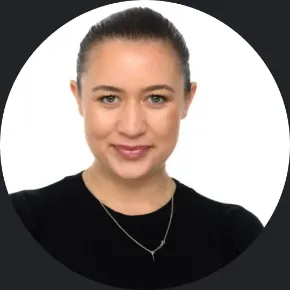 Laura Croggon​
Marketing & Communications Manager